Matec Solutions Slurry Pump is designed for heavy duty application, especially for mineral processing plant. Supplied with wet parts materials of High abrasion and corrosion resistance alloy, rubber or polyurethane etc. It is genuine replacement for Warman AH series slurry pump
We focus on customer satisfaction by improving the wear life and maintain reliable quality, Matec Solutions is the only supplier who promise full life cycle quality warranty, we take care of our customer and products at any time.
Applications:
Ball Mill Discharge, Cyclone Feeding, Concentration Plant Processing, Tailing Pumping, Chemical Slurry, Quarry.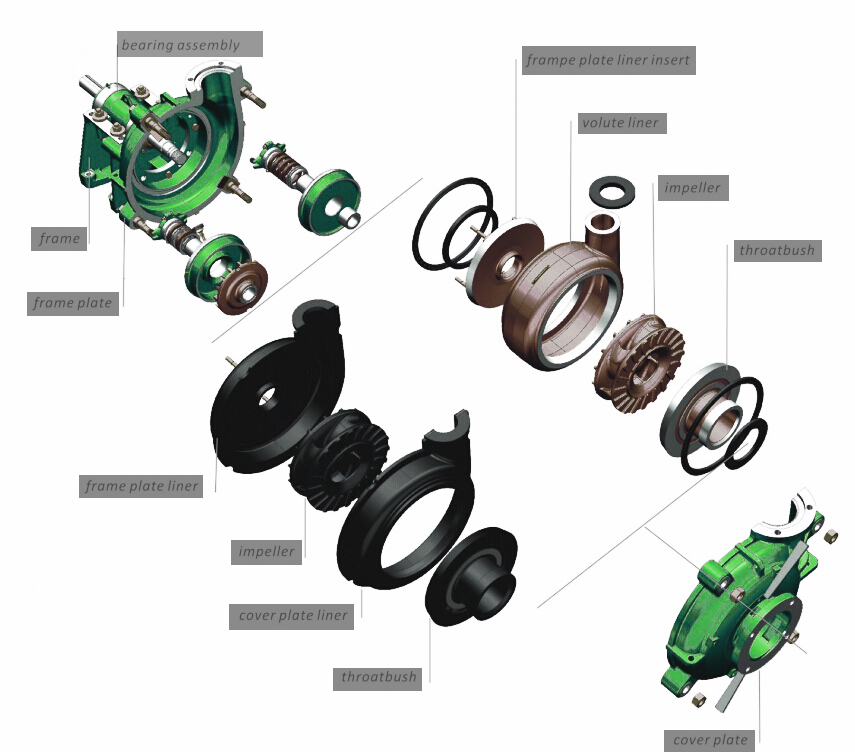 Features:
Heavy duty construction with through-bolt design;
Durable ductile casing bears higher pressure by higher strength;
Thickener Liners to withstand abrasive solid for longer life;
High efficiency impeller means more production with less energy;
Easy grease lubrication means less maintenance time;
Full flow, Low flow, centrifugal, mechanical seal options for various site conditions.
Specification:
1, Model Equivalence with Warman slurry pump: Matec→Warman
MHM→AH; MHR→AH(R);MHH→HH;MM→M; MR→M(R); MLM→L; MLR→L(R)
2, Size Range:
MHM: 1.5/1 – 20/18 ; MHR: 1.5/1 – 20/18 ; MHH: 1.5/1 – 8/6; MM: 10/8 – 12/10; MR: 10/8 – 12/10; MLM: 50 – 650; MLR: 50 – 650 .
3, Shaft Seal Options: Packing Seal, Expeller Seal, Hi-Seal, Mechanical Seal;
4, Wet end parts materials equivalent: A05, A07, A08, A49, A61, R08, R26, R38, R55, S42, U38 etc;
5, Dimensional interchangeability and guaranteed performance;
6, Optimized design and material is available as per customized requirements.